Reading Time:
3
minutes
Have you ever dreamed about to visit Thailand? Isn't it like a heaven on the earth?

Thailand is one of the most attractive and lively countries in Asia. Also has a great market to shop and this shopping heaven obviously offers various products for visitors to buy. If you are returning home from a little trip to Thailand you will want to bring some things with you and can't decide what to buy from Thailand. Don't worry we have collected 15 things to buy from Thailand for you in this post. And let us remind you that you can request all of these products via travelers on Glocalzone by clicking the button under the products!
Thai Crockery

Those crockeries called Benjarong would be a symbolic souvenir and memory. Those crockeries have different kinds of designs like gray, white or black-on 5 different colors. Crockeries are the most elegant thing you can buy from Thailand.

Coconut Oil and All Coconut Products

Coconut products are the most produced products in Thailand. You can find %100 organic coconut oil on every corner in Thailand for an appropriate price. But one thing to consider is that coconuts grow in every corner of the country, so it affects a lot of different industries and materials such as  
Soap




Alcohols




Beauty products (Coconut oil is great for the skin.)




Spa products




Essential oils




Candles




Massage packs and compresses




Wind chimes




Thai Snacks!
Milk Tea ($2)

Who wouldn't want a great ice drink for a hot summer? We recommend you to drink this milk tea on the hottest summer day. It will make you feel cool. It has a little package so it's a great thing to buy from Thailand.

Royal Chitralada Milk Candy ($3)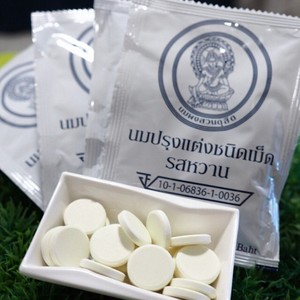 These biscuits have a soft taste to eat daily. In Thailand, Royal Chitralada Milk Candies are so popular between the locals. It's made by milk and chocolate. You can find them in every market but be careful you will become addicted to the taste! No problem, get a couple of them from your Thailand trip. If you miss them Glocalzone is here to make you reach local desired items!
Pad Thai ($3)

You return back from Thailand without buying noodles, right? We had to put a noodle on this list!

Bento Squid ($8)

You remembered that snack from somewhere right? Yes, Bento Squid is the snack that you see in every YouTubers' video. It's really spicy please consider that while you're trying it!

Healers
-Tiger Balm ($7)

We have heard the name of this brand which produces pain relievers and soothing medicine. This product is famous all over the world. The prices are also very cheap in Thailand. You need to try it! It's totally organic!

-Ya Dom ($4)

Ya dom is a natural healer for rhinitis. When you get it, it will lead to open breath. Users of it say it's a miracle. You should try it if you have a problem like that.
-Siang Pure Oil ($8)

Siang pure oil has been used by Thais for years and years. According to users: when inhaled, it is good for nasal congestion, dizziness, fainting and opens the nose. If it is applied to the abdomen, it is good for indigestion and stomach cramps. When applied to the area: muscle tension, movement, joint torsion, and joint pain, bruises, bites and insect bites are fixed.

-Takabb Anti Cough Pill ($10)

The package can be scary but people say it really does solve a cough. If it doesn't work, don't be pessimistic. It's the most popular natural pill in Thailand!
Thai Silk


One of the most stylish thing that you can buy From Thailand is silk loom products. You can find various products ranging from clothes to bedspreads. Those fabrics which are made of raw materials. The silkworm is known for having a long lifespan. These Thai silks are one of the most beautiful products that you can buy from Thailand.
-Snake Brand Prickly Heat Powder ($7)

Yes! That's our favorite product to buy from Thailand! This powder is a miracle, hero or magic! After the shower put this powder on your body and feel the freshness that it gives you! It's the most relaxing thing that I've tried. It can be a good gift for your loved ones.

Great Tips for Great Shopping in Thailand
Get a pair of comfy shoes and please consider the weather. Carry a city map especially in Bangkok because Bangkok is a very complex city. Mosquito repellent is the must-have in Thailand. Maybe take a dictionary to communicate with sellers.
For more information, sources: